COMBO introduce overviews
---
COMBO introduce overviews
What is COMBO?
COMBO is a leading provider of scaling solutions for Web3 game development. By leveraging the world's top game engine, COMBO is building an open-source, decentralized, game-oriented Layer2 that is accessible to everyone. It aims to maximize the potential of Web3 games by connecting game developers with the entire ecosystem in an efficient, affordable, and secure way.
Why do we build COMBO?
At the end of 2017, the explosive success of CryptoKitties showed the COMBO team the potential for blockchain games. The possibilities presented by this project have generated a rare excitement among seasoned game engine experts.
At the time, mature Ethereum scaling solutions had yet to emerge, and infrastructure was still immature. After careful consideration, COMBO built the first game chain based on Graphene technology, introducing advanced concepts such as parallel worlds, item traversal, asset synthesis, and asset circulation, successfully launching in 2019.
In the wake of the DeFi Summer of 2020, the GameFi wave of 2021, and the maturation of Ethereum's scaling solutions, COMBO recognized that an isolated chain was no longer viable. As a result, the team boldly decided to shut down their original Graphene-based chain and fully embrace the Ethereum ecosystem.
Afterward, the team developed the IGO platform and a Web3 plugin to facilitate game development. However, as we reflected on COMBO's original mission, we realized that the path to achieving the goal of "serving game developers and attracting over one billion gamers to the Web3 world" remained unclear.
"As more Layer2 mainnets such as Optimism, Arbitrum, and StarkNet are launched, we see a new possibility," said a technology contributor of COMBO. "Layer2 can fundamentally solve Ethereum's scalability problem, and there will be many specialized Layer2 in the future. Therefore, creating a game-focused Layer2 is possible."
What is COMBO's architecture?
Web3 game development has long been plagued by three major issues: a lack of scalability, with low throughput, high transaction costs, and limited game development tools acting as a barrier to both players and developers, significantly limiting the scale of Web3 games; a lack of gameplay, resulting in Web3 games feeling more like financial instruments than actual fun games; and finally, a high barrier to entry for players, requiring them to create wallets, store private keys, find convenient channels for buying and selling cryptocurrencies. For DApp developers, COMBO provides a cheaper and more user-friendly development environment, while DApp users can enjoy a smoother and more cost-effective experience.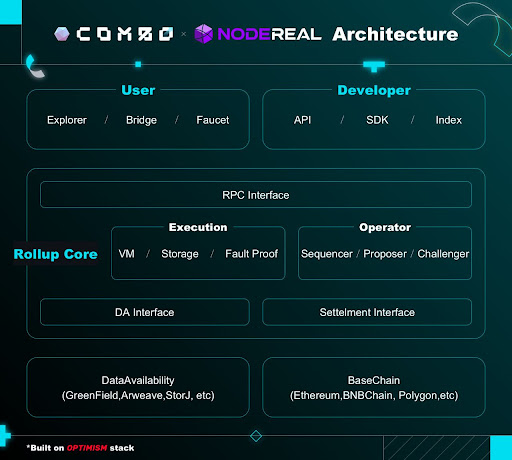 What is COMBO's goal?
Backed by the world's leading investors and partners in gaming including Binance Labs, NEO Global Capital and more, COMBO is on the mission to bring over 1 billion gamers to web3.